Various Openings Of Bsc MSc In Element Chemilink Ankleshwar (New Project)
Posted by Admin on June, 26, 2020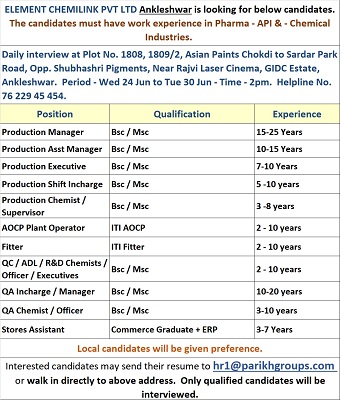 ELEMENT CHEMILINK PVT. LTD. GIDC Estate, Ankleshwar is looking for below candidates for their NEW PROJECT. The candidates should have work experience in Pharma - API & - Chemical Industries.
Interested candidates may send their resume to hr1@parikhgroups.com
This entry was posted on June, 26, 2020 at 08 : 54 am and is filed under Interviews. You can follow any responses to this entry through the RSS 2.0 feed. You can leave a response from your own site.